Earth Angels are volunteers who will be around to guide and help you through the various phases of your adoption journey.  They comprise adoptive parents, potential adoptive parents, volunteers, special educators and more.
Shradha Revankar
Shradha is a software engineer by profession, when she is not fixing bugs she is busy running after her two year old super-active daughter.
She takes pride in having read everything on the CARA website cover to cover and is always up to date with the rules and regulations pertaining to adoption.
She has actively been giving feedback to CARA  in the hope that it will help make their systems and process better.
She is willing to help prospective parents with any questions they might have.
To get in touch with Shradha, please mail AdoptPadme@gmail.com
Mallika Vasudev
An adoptive mom twice over, she currently lives in Gurgaon with her husband and daughters. Her adoption journey started in the year 2000, where she struggled to get information, meet other adoptive parents or deal with the everyday challenges every new parent faces. She now considers it a privilege to be able to help/ guide other adoptive parents in any way possible.
One effort in this direction was to create a Facebook group, Born from the Heart. A group where adoptive parents can discuss issues, share stories and potential adoptive parents can talk to people who have been through the same process. It's a 'closed' group to maintain the privacy of everybody involved.
To get in touch with Mallika, please mail AdoptPadme@gmail.com
Tracy Murphy
Tracy Murphy sits on a board as a Vice Chair of Bellis (www.mybellis.org), a non-profit focussed on adoption education and support. She is the proud mom of 3 kids, all adopted from Korea. She and her family, including husband Tom, have lived in Minneapolis, Bangalore and Toronto. They are extremely active with sports/activities and love to travel/explore.
To get in touch with Tracy, please mail AdoptPadme@gmail.com
Annie Natarajan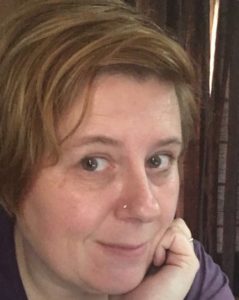 Annie believes that adoption much like marriage is a relationship of choice, not a default option. Her son sums it up best 'I'm special because I came from mummy's tummy, my sister is special because we had to find her and fall in love with her'.
Either way they keep her on her toes as she navigates two countries, two religions, career, family, in laws and a whole lot more! She writes on Special needs adoptions, hard to place children and cross-cultural adoptions. She lives in India, and is from the UK.
She is enthusiastic, extremely passionate, and is all ears to parents and other stakeholders in the ecosystem seeking information on adoption.
To get in touch with Annie, please mail AdoptPadme@gmail.com
Sangitha Krishnamurthy
Sangitha Krishnamurthi is a special educator, blogger and mother of three.  Her kids have two legs and four and have joined her through birth and adoption.  Her interests include living 'as mindful and organic a life as possible' in addition to reading and writing about the reading.
She will be addressing queries relating to pre-adoptive and on specific learning abilities (SLD).
To get in touch with Sangitha, please mail us at AdoptPadme@gmail.com