Dr. Saras Bhaskar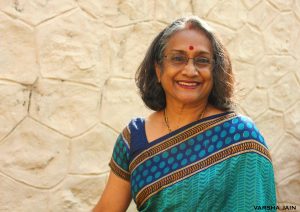 Dr. Saras Bhaskar's  specialization include infertility and adoption counselling.  Mrs. Saras Bhaskar is specialized in various facets of adoption counselling. She along with her husband has firsthand experience of enjoying parenthood with their daughter (now 27 years) who was adopted when she was 3 months old.
Besides Mrs. Bhaskar's experiential knowledge, her academic and technical skills in understanding the adoption process can prepare the parents for the arrival of their child. She is an expert in identifying the difference between adoption related issues versus general parenting issues. For the last fifteen years, she has been giving guidance and counseling for adoptive parents.
Dr. Saras Bhaskar has worked with adoption agencies prior to "CARA" procedure with regards to submitting a report on the "Psychological readiness for parenthood" of prospective couples. She is proficient in sensitizing adoptive parents on "Disclosure" of when, who and how methods.
She diligently works with older children with their assimilation to the new environment She is much sought after for counselling teenagers. Her vision to empower counseling professionals in the field of psychology gave birth to Chennai Counselors' Foundation. Started in 2004, CCF provides a platform for counseling professionals to share knowledge, expertise, provide cross-referrals and train for growth and advancement.  
Academic Qualifications
Currently pursuing her PhD at the University of Madras, Chennai.

As a research scholar was associated with University of Utrecht, Nederland

Master of Art in Human Services, Counseling & HRM, St. Edwards University, Austin Texas

Master of Arts in Applied Psychology, SIET College for Women, Chennai Tamil
Journal publications relating to adoption
Saraswathi Bhaskar,

"Childlessness, Parenthood and Psychological well being", 

Recent Advances in Psychology, vol 4 (2), 2017

Saraswathi Bhaskar, Rene

Hokhbergen, Anneloes van Baar, Arun Tipandjan and Jan ter Laak, "

Life experiences and quality of life of involuntarily childless men in treatment and adoptive fathers",

Journal of Reproductive and Infant Psychology, 2014

Saraswathi Bhaskar, Rene Hoksbergen, Anneloes van Baar, Subasini Mothiram and Jan ter Laak, "

Adoption in India – the Past, Present and the Future trends",

Journal of Psychosocial Research, vol 7 No. 2

(July-December) 2012.
Dr. Aloma Lobo
Dr. Aloma Lobo worked with St. Johns, and World Health Organization.
She was the chairperson of the ACA (Adoption Coordinating Agency) and as the former chairperson of CARA. Dr. Aloma Lobo has worked in the field of Adoption for 30 years. (Central Adoption Resource Authority)
Dr. Aloma Lobo, will be extending her expertise in counselling prospective and adoptive parents.
To get in touch with Dr. Aloma Lobo, please mail adoptpadme@gmail.com