Presentation to Paediatricians at Apollo Hospital, Chennai
Padme organised a presentation to paediatricians and other doctors at Apollo Children's Hospital, Chennai.  The presentation on the Role of Paediatricians in Adoption was followed by a Q&A session. A few snippets. And a few words from Dr. Shyamala and Dr. Sharada, the ones who made it happen.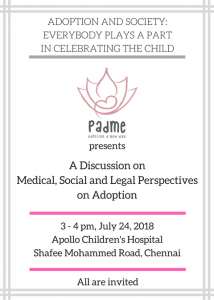 Adoption and Society: Everybody plays a part in celebrating the Child
A snippet from Padme's Panel Discussion on Adoption and Society: Everyone Plays a part in Celebrating the Child with Dr. Aloma Lobo (Former Chairperson – Central Adoption Resource Authority (CARA) and adoptive parent), Ms. Sheila Ramaswamy (Programme Coordinator, NIMHANS) and Ms. Anuradha Monga (Head, Bangalore International School). This clip covers the Question on Disclosure.
Padme's Panel Discussion on Adoption and Society – Question on Disclosure